Welcome to another interview in the Ampersand series: interviews with writers from all over the world who have a connection to Tuscany.
This time we caught up with Irish author Paula McGrath, who was recently in Florence as 'Writer in Residence' for Florence Writers. She talks about tree-houses, creativity and her search for interconnectedness.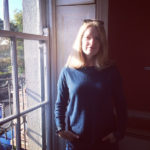 If you would like to read previous interviews in the series, please check out the Ampersand page.